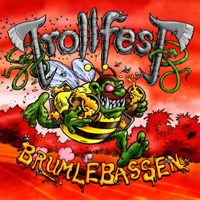 Tracklisting
01. Brumlebassen Buy
02. Böse Tivoli Buy
03. Illsint Buy
04. Hevlette Buy
05. Finsken, Norsken and Presten Buy
06. Mystisk Maskert Buy
07. Apis Mellifera Buy
08. TrinkenTroll Buy
09. Verboten Kjærleik Buy
10. Bråk Buy
11. Sellout Buy
12. Rundt Bålet Buy
13. Konterbier [Bonus]*
*=only available on the limited digi-pack version and vinyl.
Info
Released by NoiseArt Records, April 2011.
Main istrument/vocals recorded in Strand Studio v/Marius Strand.
Additional instruments and backing vocals recorded at TrollskogeN Recording Facilities by TrollfesT.
Mixed by Marius Strand @ Strand Studio.
Produced by TrollfesT. Mastering: StrypeAudio v/"Tom"
Artwork by Jonas Darnell. Layout by theterje.net.