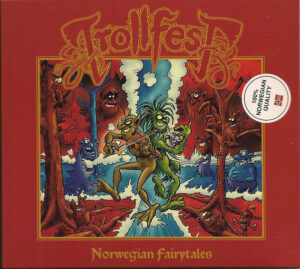 Tracklist
| | |
| --- | --- |
| Fjøsnissens Fjaseri | 3:19 |
| Kjettaren Mot Strømmen | 3:51 |
| Espen Bin Askeladden | 4:05 |
| Trine Reinlender | 1:21 |
| Fanden Flyr | 4:01 |
| De Tre Bukkene Berusa | 1:24 |
| Småfolkets Store Bragder | 6:19 |
| Draugen | 3:47 |
| Deildegasten | 1:34 |
| Byttingenes Byttehandel | 3:42 |
| Nøkken Og Fossegrimen Spiller Opp Til Midnattstimen | 8:16 |
Info
Album has been mixed and mastered in Emissary Studios (Newcastle, Australia), engineered by Ryan Huthnance (September 2018).
Drums have been recorded in Strand Studio, engineered by Marius Strand (June 2018). Bass have been recorded in Dub Studio, engineered by Endre Kirkesola (August 2018). Vocals and choirs have been recorded in Richtone audio, engineered by Anders Holdberg (July/August 2018).
All instruments have been recorded in "Trollskogen Recording Facilities" and Metronopolis Studios between June and September 2018.
The album has been produced by TrollfesT. No bagpipes were used during the making of this album.
Artwork by Jonas Darnell.
Design by Andy WarTroll (theterje.net).
Photos by Eirik "Indoneger" Folkedal.
GUEST APPEARANCE:
Hardanger fiddle by Tora "MammaBinnå" Dugstad.
Additional joik on "Fjøsnissens Fjaseri" by Simen "ICS Vortex" Hestnæs.
Additional vocals on "Fanden Flyr", "Espen Bin Askeladden" and "Byttingenes Byttehandel" by Miriam "Sphinx" Renvåg.
Additional vocals on "Nøkken og Fossegrimen…." by Mari "Budeia Dubedåre" Müller.
Additional vocals on "Småfolkets store bragder" by Bok'n'Brusetruse.
Additional laughter on "Draugen" by Askebassen.