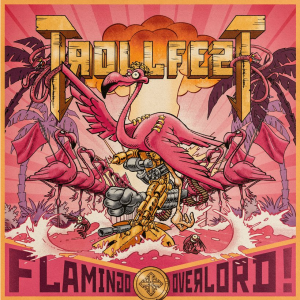 Flamingo Overlord tracklist:
1. Dance Like a Pink Flamingo
2. All Drinks on Me
3. Flamongous
4. Twenty Miles an Hour
5. The Flamingorilla
6. Flamingo Libre
7. Piña Colada
8. Rule the Country
9. The Way You Earn Your Drinks
10. Overlords Have Feelings
11. Bob Venke
Info
The album has been mixed and mastered in Hansen Studios, engineered by Jacob Hansen (October 2021).
Drums and main vocals have been recorded in Strand Studio, engineered by Marius Strand (October 2020).
All instruments and additional vocals have been recorded in "Trollskogen Recording Facilities" and Metronopolis Studios between November 2020 and July 2021.
The album has been produced by TrollfesT.
No bagpipes were used during the making of this album.
Artwork by Jonas Darnell.
Design and photos by Andy WarTroll (theterje.net).
GUEST APPEARANCE:
Additional vocals on "All Drinks On Me" by Jonne Järvelä.
Additional vocals on "Twenty Miles an Hour" by Yves Agbessi.
Violins on "All Drinks On Me" and "Bob Venke" by Ingvild "Tante Pãthë" Strønen