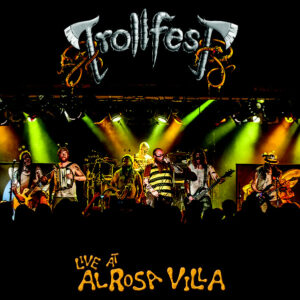 1

Trollkamp

1:47
2

Den Åpne Sjø

4:11
3

Brumlebassen

5:49
4

Brakebein

3:44
5

Karve

6:35
6

Illsint

4:00
7

Der JegerMeister

5:05
8

Rundt Bålet

2:17
9

Helvetes Hunden Garm
Info
Recorded at Alrosa Villa, Columbus Ohio,
on Brumlebassen tour, April 14. 2013.
What do you get when you combine an angry wasp, a bee with mommy issues and seven twitchy Norwegians? Well, you get TROLLFEST, actually! What do you get when you send the seven Norwegians on their first US tour? You turn those sissy jelly beans into a concrete, frothing, frantic touring machine! Tighter than Mr. T's haircut!
At the height of the frantic buzz of the Brumlebassen touring cycle, Trollfest manifested their chaotic energy with this performance in Ohio. The band is razor sharp, the seven little wasps are at their best, smiling, grinning and joking with beer in hand and a vicious glow in their eyes!
Mixed and Mastered by Martin Skar Berger at Skar Productions.
Front photo by Chris A. Photography. CD photos by Florian Stangl,
Angelique van Huijzen and Alex Photophobia. Design by Mr.Seidel